'Fusionando Ciudad y Naturaleza' ha sido el propósito que Batlle i Roig ha tenido a lo largo de sus 40 años de trayectoria. Para celebrarlos, publica el libro "Fusionando ciudad y naturaleza", un manifiesto de acción profesional contra la emergencia climática, explicado a través de algunos de sus proyectos más relevantes.
El próximo 2 de marzo tendrá lugar en la sala mirador del CCCB la presentación del libro del estudio de arquitectura Batlle i Roig con un debate con tres arquitectos que, desde la óptica de la Academia, también han participado en el libro. Con ellos reflexionaremos sobre por qué la naturaleza siempre es la respuesta.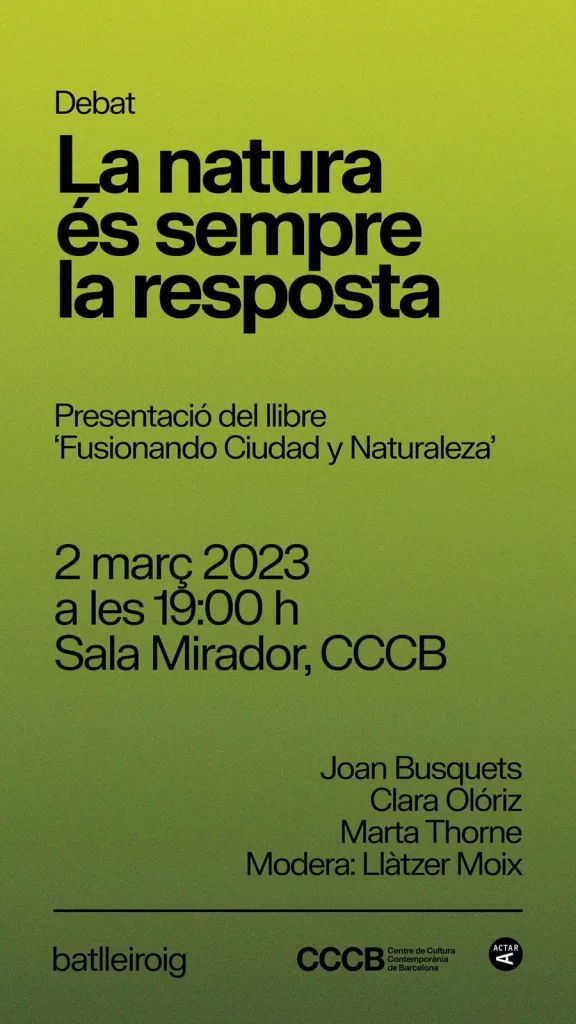 Los arquitectos Joan Busquets, profesor de la Harvard University, Clara Oloriz, investigadora y profesora de la Architectural Association y Martha Thorne, profesora distinguida de la IE School of Architecture and Design reflexionan, en un debate conducido por el periodista Llàtzer Moix, sobre cuál es el papel de la arquitectura ante los principales retos de la emergencia climática y de la necesidad de mejorar las condiciones de vida del planeta.
Hoy en día es inconcebible proyectar un edificio sin pensar cuál será su comportamiento hidráulico, climático o biofílico. Es la única forma de respetar las estructuras del lugar y, por lo tanto, de relacionarse empáticamente con el entorno. Y es bajo esta premisa, la de la empatía, que los y las arquitectas tienen el compromiso de trabajar con la naturaleza y para la naturaleza, como agentes transformadores de la ciudad y el territorio.
Rogamos confirmación de asistencia a [email protected]
Jueves 2 de marzo de 2023 – 19:00 h
Sala Mirador del CCCB Montalegre 5, 08001 Barcelona