IAAC Lecture Series – Xavier De Kestelier
Xavier De Kestelier is a global Head of Design and leader of Hassell's design technology and innovation team, which sets strategy and advises on the tools and knowledge we need to succeed. Both an architect and technologist, Xavier harnesses technology to create more powerful, future-focused design solutions. That means he's responsible for overseeing Hassell's work in computational design, building information modelling, visualisation and virtual reality worldwide.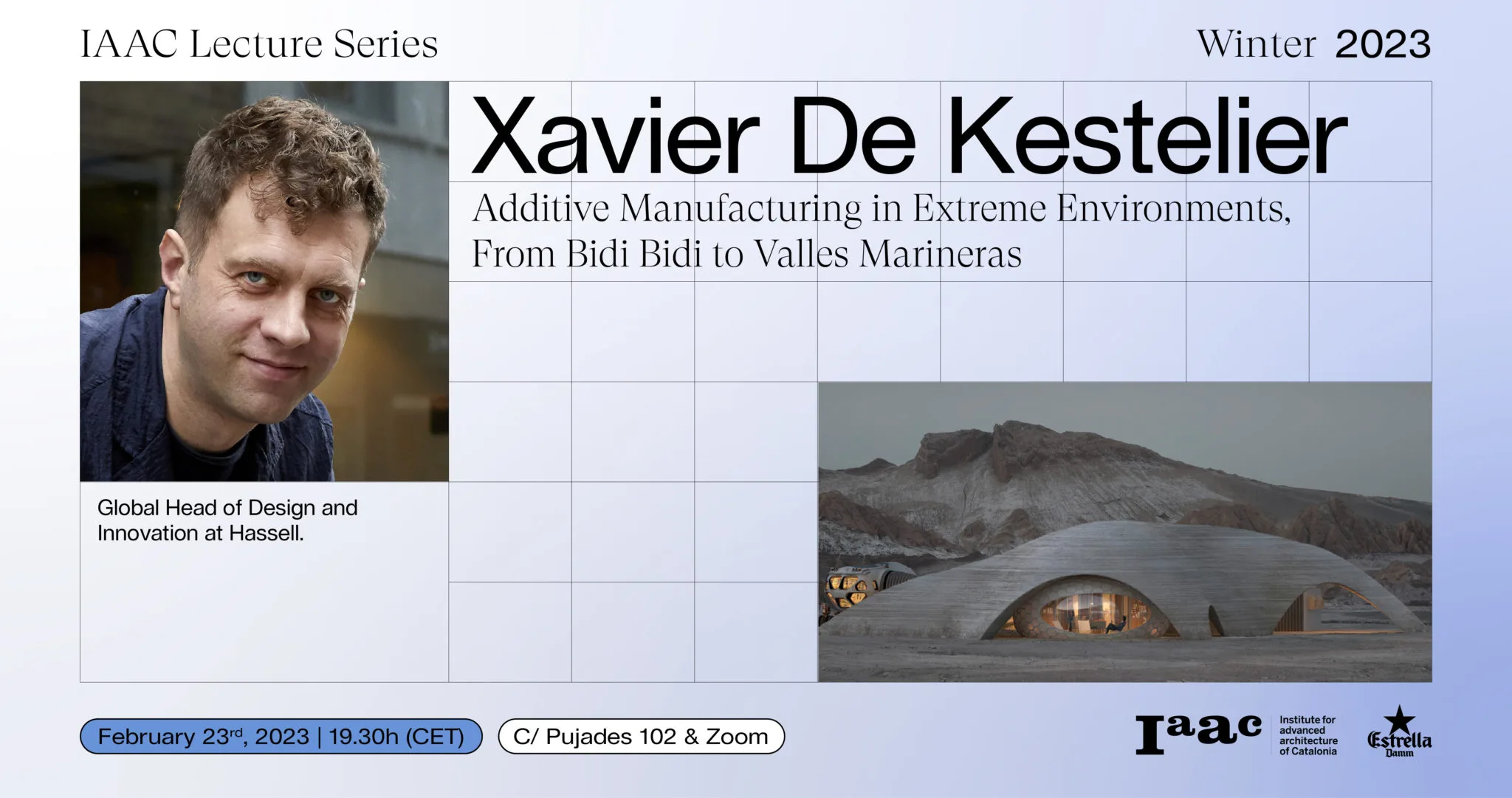 Over the past decade he's forged a reputation as an industry leader in the exploration and adoption of parametric design and digital fabrication. Prior to working at Hassell, Xavier spent 16 years at Foster + Partners, working as a Partner for the Specialist Modelling Group. Most recently, he was behind our concept for a ​'home' on Mars – part of NASA's 3DPrinted Habitat Challenge. A TED talker and regular speaker at major design and tech events, Xavier is also a director of Smartgeometry, a non-profit, global educational network for computational and digital design specialists.
Additive Manufacturing in Extreme Environments, From Bidi Bidi to Valles Marineras
Additive Manufacturing, or 3D Printing, was pioneered over 30 years ago and has since become a commonplace tool in high-end manufacturing processes spanning from bicycles to rocket engines. Nevertheless, its application within the realm of architecture is still in its nascent stage. To this end, the Innovation team at Hassell studio has been undertaking multiple small projects with the aim of exploiting Additive Manufacturing for sustainable and innovative utilization. In order to gain an in-depth comprehension of 3D printing's potential applications, projects have been conducted across various climates: from Swiss glaciers to East African refugee camps as well as at Vales Marineras on Mars.
IAAC Lecture Series – Xavier De Kestelier
Thursday, 23rd February, 2023 at 19.30h (CET)
Title: "Additive Manufacturing in Extreme Environments, From Bidi Bidi to Valles Marineras"
Location: In-house at IAAC Main hall, C/ Pujades 102 & Zoom