This year the COAC co-organizes the RCR Open Program Lectures that accompany the annual summer workshop organized by RCR Arquitectes and the RCR BUNKA Private Foundation.
RCR is an architectural firm formed by Rafael Aranda, Carme Pigem and Ramon Vilalta, based in Olot since 1988 and winners of the Pritzker Prize 2017. Barcelona Architecture Walks organizes a special tour to visit the work built by this prestigious architecture studio in the Garrotxa region of Catalonia. The search for timelessness and beauty is always present in their work, and all of their projects reveal an important connection with Japan. In all of them, we will experience stillness, quiet, silence…
This program consists of a series of 11 lectures on architecture and landscape, open to the public, with the participation of prominent artists and professionals from the world of architecture, photography, performing arts, dance, audiovisual and sound art. The lectures, which are broadcast by streaming, are each accompanied by a video-creation.
Program Architecture and Landscape · Conference Be part · Date Tuesday, July 14 , 2020 · 20:00
María Langarita (Zaragoza, Spain, 1979) is a graduate of the Universidad de Navarra (BArch, MArch) and the School of Architecture of Madrid-Madrid Polytechnic University (PhD) and is a lecturer in Architectural Design at the School of Architecture of Madrid (ETSAM).
Together with Víctor Navarro, she founded the Madrid-based practice Langarita-Navarro in 2005, where they design and direct teams that driven by innovation and imagination help join together desire and knowledge, resources and technique, and expectations and experience.
Program Architecture and Landscape · Conference Three Projects in Switzerland · Date Wednesday, July 15, 2020 · 20:00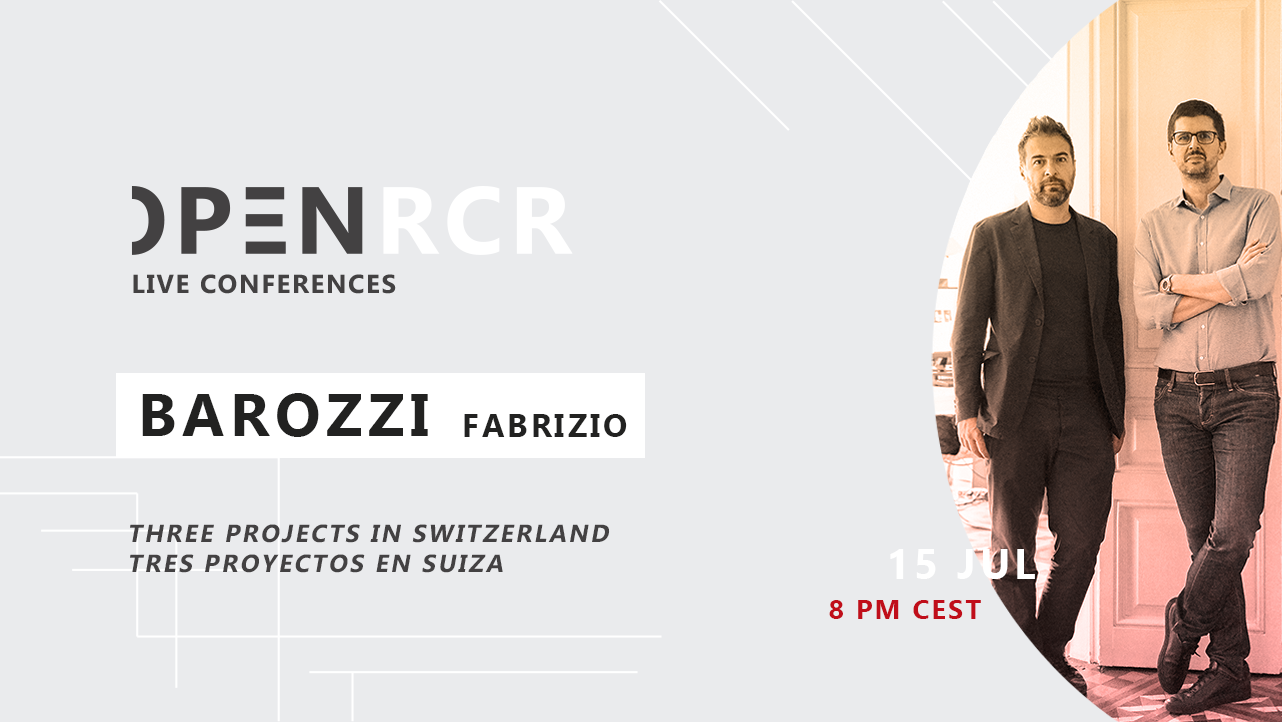 Barozzi Veiga was founded in Barcelona by Fabrizio Barozzi and Alberto Veiga in 2004. The practice has since worked internationally in public and private projects receiving several prestigious distinctions. Barozzi Veiga's work, which mainly includes cultural and educational buildings, is characterized by the intention to arrive at solutions that are rooted in place, architectures that can be perceived over time and that have an emotional content.
Program Audiovisual · Conference Movement in the Cinematographic Image · Date thursday, July 16, 2020 · 20:00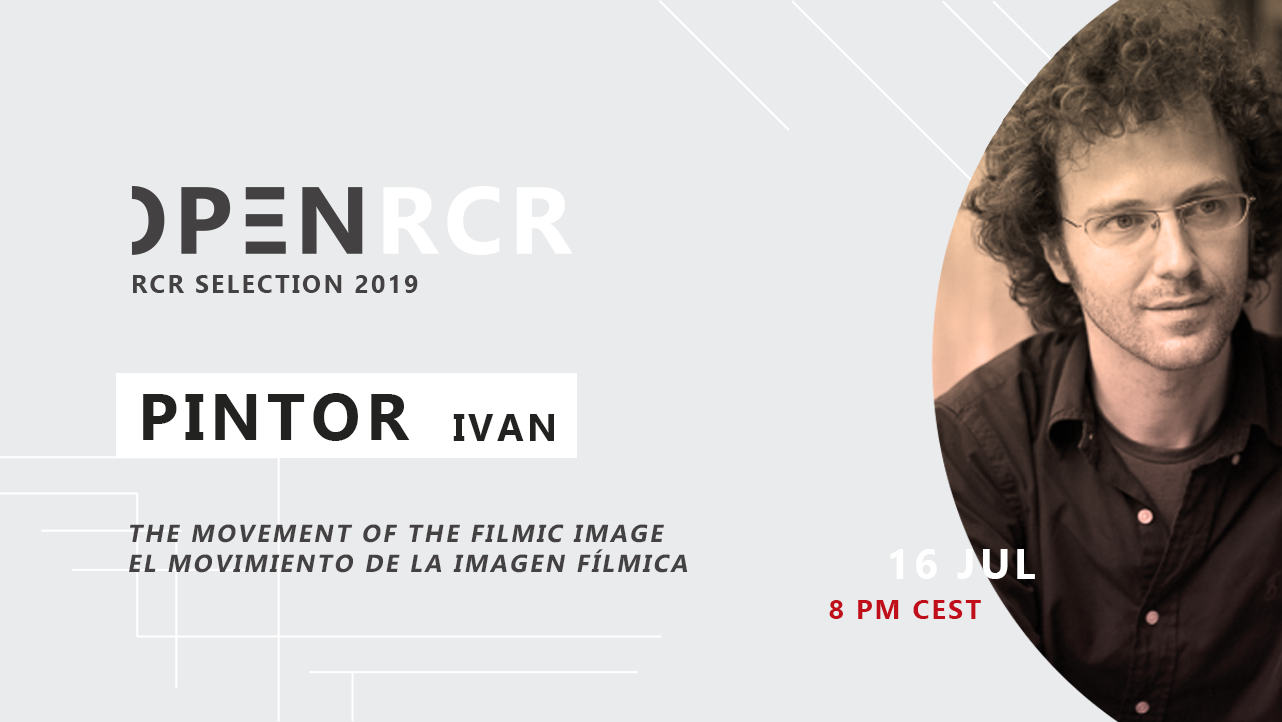 Ivan Pintor Iranzo (Barcelona, Spain, 1975) holds a PhD in Audiovisual Communication. He is Professor of the Department of Communication of the University Pompeu Fabra (UPF), and has taught at universities in Italy, Argentina and Colombia. He has contributed in more than thirty books
Program Architecture and Landscape · Conference Gravity and some Grace · Date Friday, July 17, 2020 · 20:00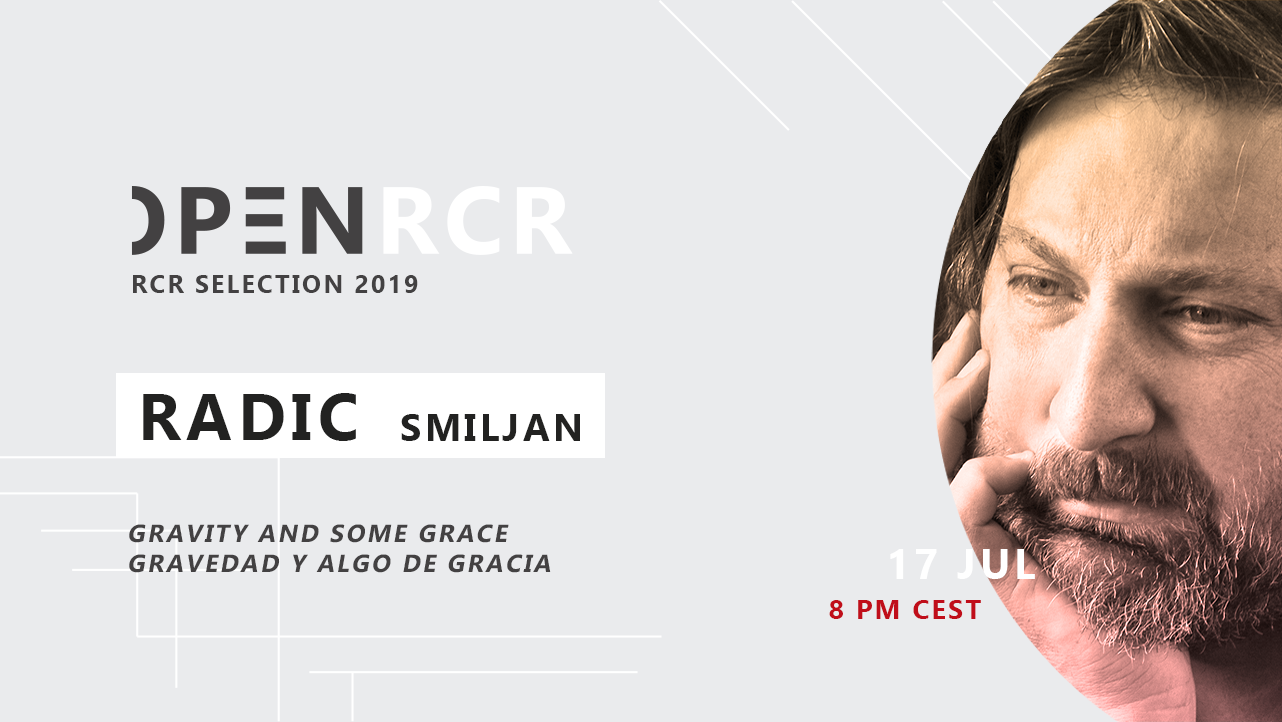 Smiljan Radic Clarke (Santiago de Chile, Chile, 1965) graduated from the Catholic University of Chile's School of Architecture in 1989 and undertook further studies at the Istitutto Universitario di Architettura di Venezia, Italy. He opened his own architecture firm in Santiago de Chile in 1995. Smiljan Radic is the president of Fundación de Arquitectura Frágil. The aim of the foundation is to promote the study and dissemination of experimental architecture or that of an improbable reality, where the boundaries of architecture are blurred.
Program Photography · Conference The Silence of Light: The Magic Light· Date Monday, July 20, 2020 · 20:00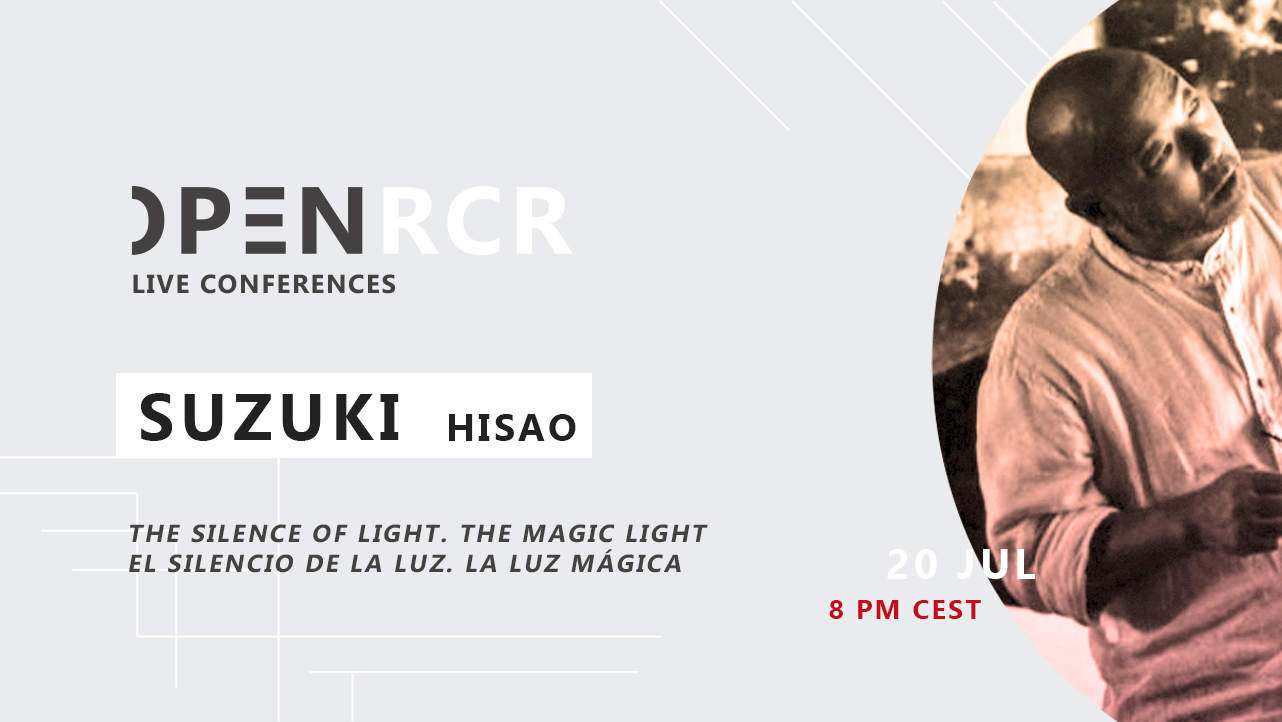 Hisao Suzuki (Yamagata, 1957) is a Japanese photographer who lives in Barcelona for more than 30 years. He studied photography at the Tokyo College of Photography (Tokyo Sougo Shashin Gakko) and starts his carreer with the photographer Tohru Minowa, specialized in gastronomy. His relationship with Barcelona and his interest in architecture are intimately linked with the work of Antoni Gaudí.
Program Performing Arts· Conference Architectural Camouflage· Date Wednesday, July 22, 2020 · 20:00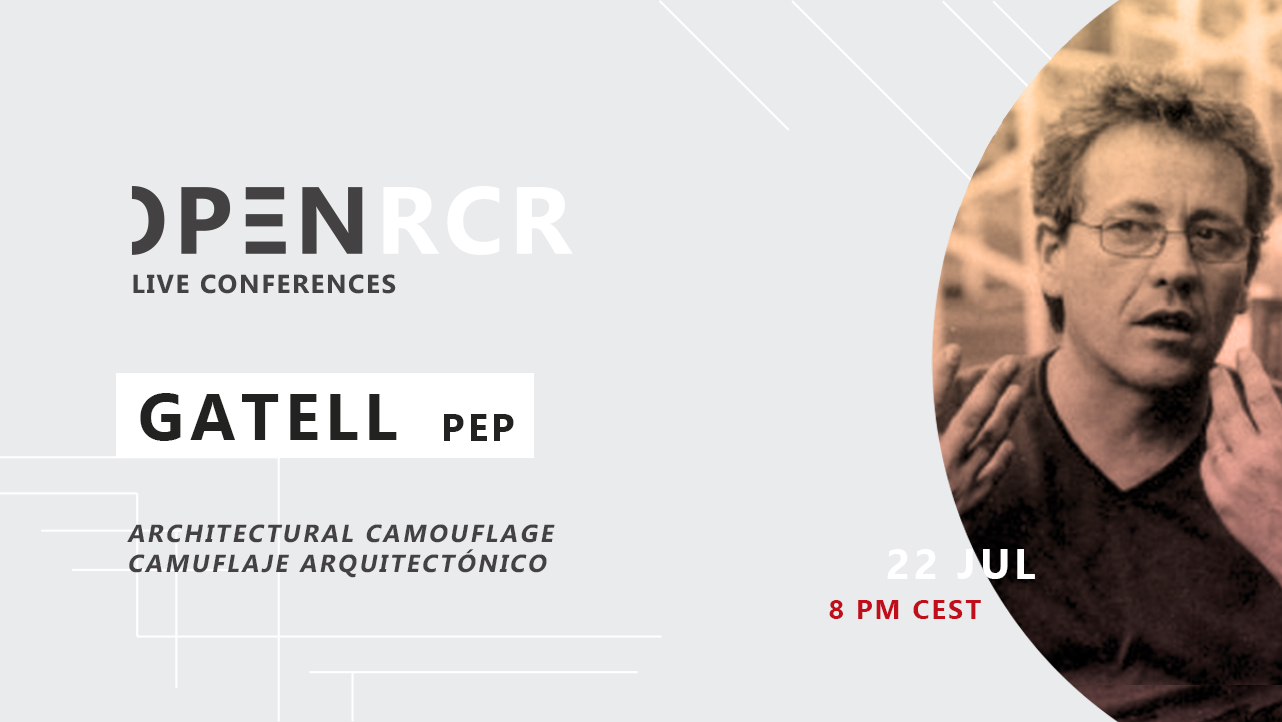 The interdisciplinary approach of La Fura dels Baus has led to an amalgamation of ritual and atavism with the hypertechnological in the scene: from the first impact furan proposals, through Olympic ceremonies, opera stagings or online productions. Since 1979 the company has also been studying the methodologies for creating the collective and the consolidation of new stage discourses. The capacity for risk and creative contagion has given La Fura wide international recognition, both at the level of the public and critics, and also with regard to academic research.
Program Architecture and Landscape · Conference William Curtis with RCR: Dream and Nature · Date Thursday, July 23, 2020 · 20:00
William J. R. Curtis (Birchington, Kent, United Kingdom, 1948) is an architectural historian, critic, writer, painter and photographer. He graduated in 1970 from the Courtland Institute of Art at the University of London and received his PhD in 1975 from Harvard University. He is one of the most prominent critics and historians of modern and contemporary architecture.
Program Scenography · Conference Where does the lost time go? · Date Friday, July 24, 2020 · 20:00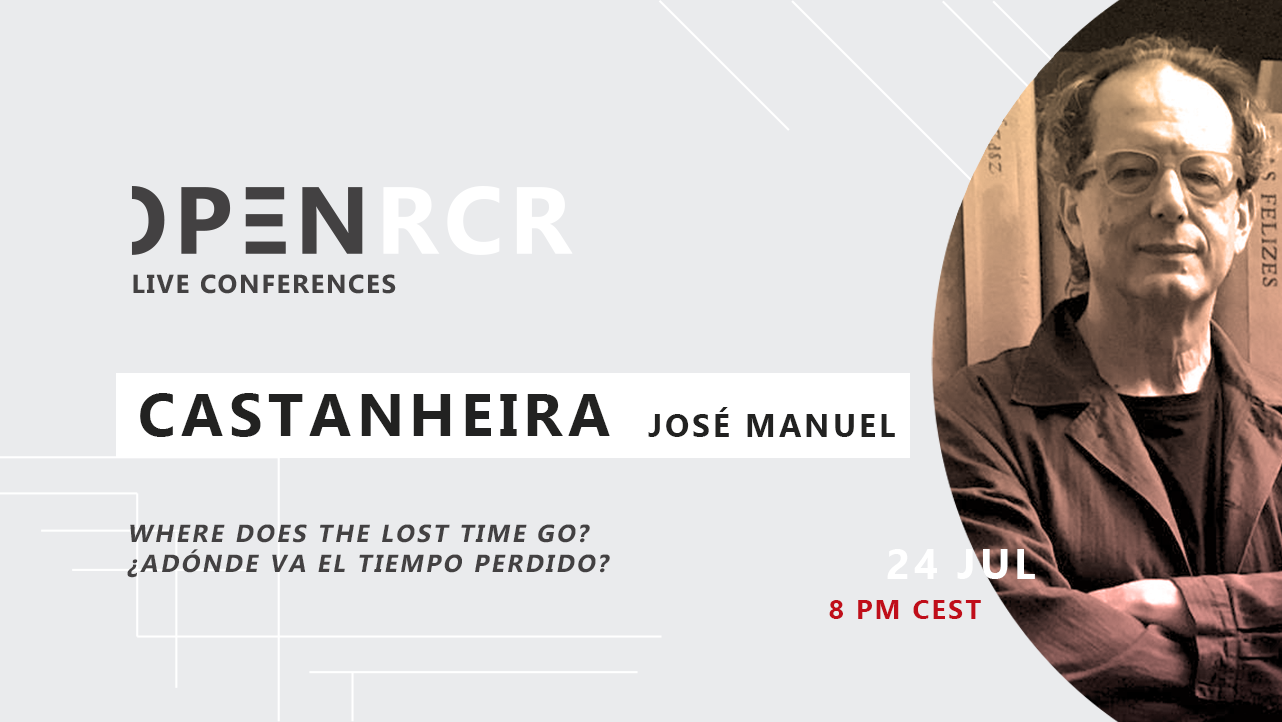 José Manuel Castanheira (Castelo Branco, Portugal) has a PhD in Architecture and Scenography, and has been teaching at the University of Architecture of the University of Lisbon since 1982. His vast work is characterized by the diversity of disciplines he touches, mainly Scenography and Theatre Architecture, Exhibition Scenography and Painting. He has been awarded national and international prizes and has directed practices and seminars in festivals, universities and other instituti
Program Sound Art· Conference Conference on nothing architecture · Date Monday, July 27, 2020 · 20:00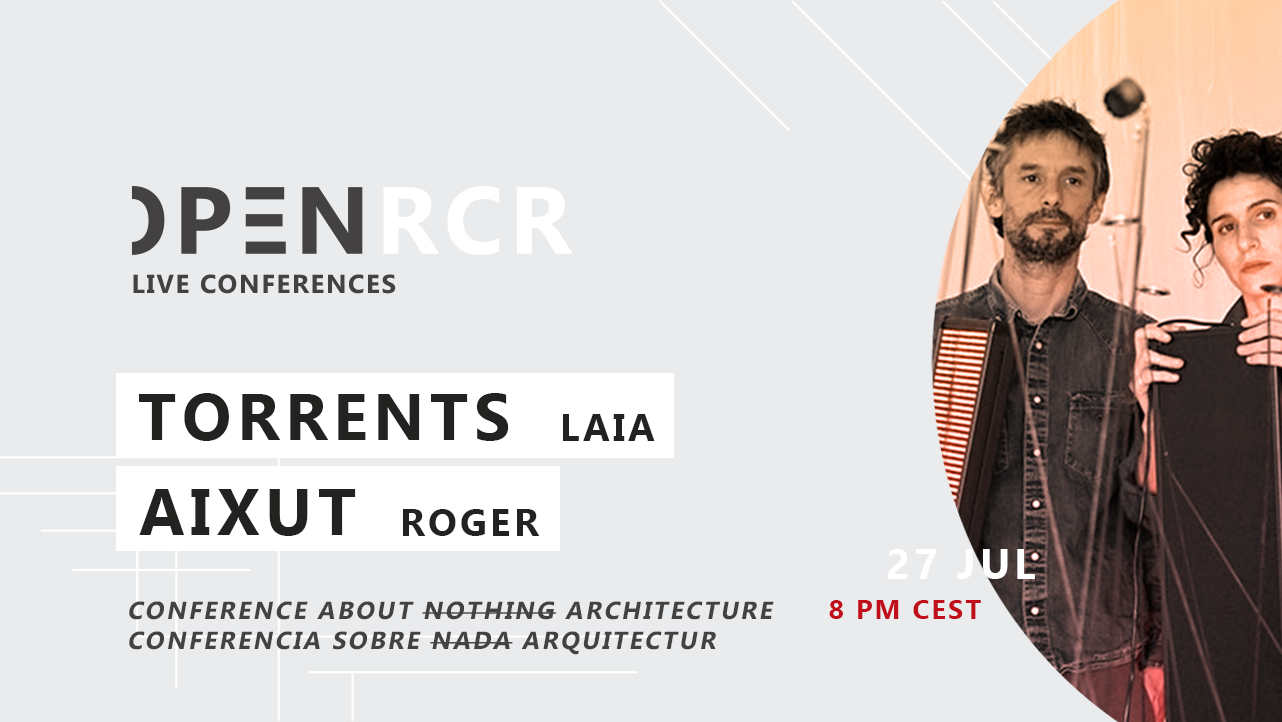 cabosanroque is a duo of sound artists that was born from a large musical collective formed in Barcelona in 2001. Halfway between visual and performing arts, and experimental music, their work revolves around the performative capacities of the machine, the object and sound. Since 2015 they have been artists in residence at the Lluís Coromina Foundation in Banyoles.
Program Dance · Conference When silence comes · Date Wednesday, July 29, 2020 · 20:00
Pep Ramis (Manacor, 1962) studies violoncello, puppets and voice techniques. He is a stage director, dancer-actor, co-director of the company Mal Pelo and co-director of L'animal a l'esquena. From 1987 to 1988 he participated as an interpreter in the show Scirocco by Adriana Borriello, Italy. Within the creation group Mal Pelo he develops his facet as a set designer and installation spaces.
María Muñoz (Valencia, 1963) studies music, dance and practices competitive athletics, with training in Amsterdam and Barcelona. She is a choreographer, dancer and co-director of the company Mal Pelo and co-director of L'animal a l'esquena.