The Foros 2020 series of lectures organised by the UIC Barcelona School of Architecture, the essential annual event in the field of architecture and urban planning, begins a new edition in early 2020 that will run from 29 January through to 29 April.
Under the heading of "co-benefits", Foros 2020 aims to consider the links and the processes of cultural interaction between contemporary architecture and other artistic manifestations such as dance, sculpture, film and comedy.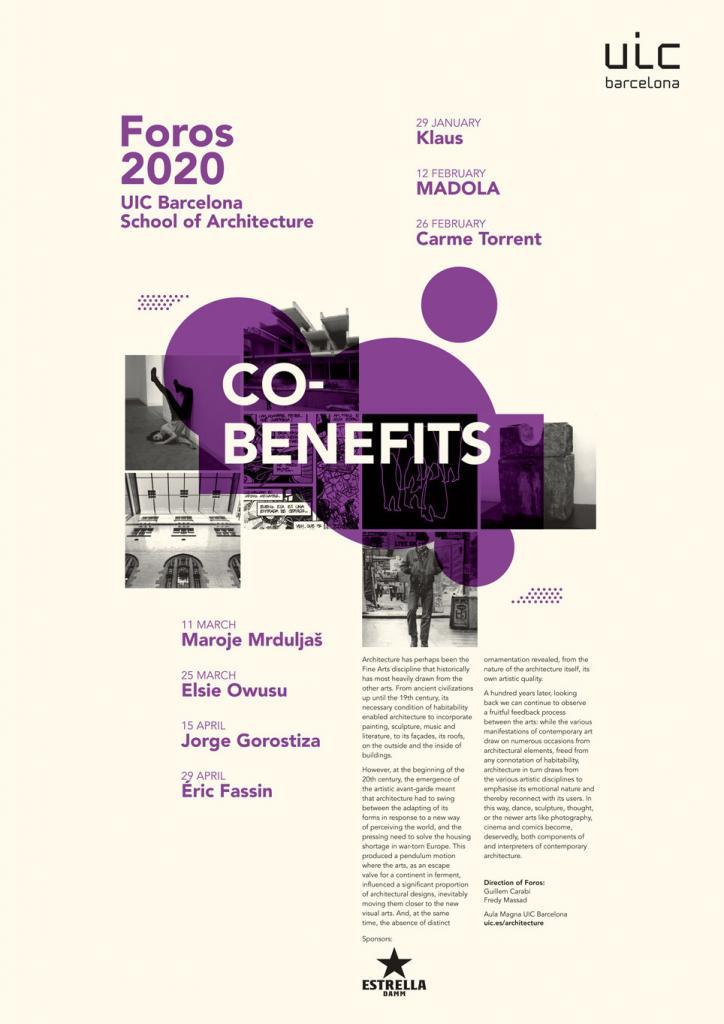 The series will be managed for the second year running by lecturers Guillem Carabí and Fredy Massad. "In the same way that contemporary art, in all its different manifestations, often takes ownership of architectural elements, devoid of any connotations of habitability, architecture also feeds from the different artistic disciplines to reclaim its emotional character and thus recover some of the bonds it has lost with its users," they explain.
The series kicks off on 29 January with a lecture by the well-known caricaturist and architect Klaus (Koldo Lus Arana). Since he launched his blog, Klaustoon, ten years ago, Klaus has stood out for his biting criticism of the architectural status quo. His work has been published in numerous architectural magazines and shown in both solo and group exhibitions. As a lecturer at the School of Engineering and Architecture (EINA) at the University of Zaragoza, he studies the interactions between architecture and the media, as well as urban visions of the future in architecture and the visual arts.
The second lecture will take place on 12 February, given by MADOLA (M. Ángeles Domingo Laplana), a plastic artist with a PhD in Fine Arts based in Premià de Dalt; she is a member of the International Academy of Ceramics and the Work-Craft Council, which is based at UNESCO in Paris. Madola is known for her large-format ceramic works in public spaces, some of her most notable interventions being the Plaça de la Font Castellana in Barcelona, the Rotonda Blava in Premià de Mar and the "Organic" installation in the Design Museum of Barcelona.
On 26 February, Carme Torrent will give a performance-based lecture. The Catalan artist has many years of experience as a performance artist for choreographers of the stature of Min Tanaka, Carmelo Salazar and Xavier Le Roy, and has participated in many programmes for exhibition spaces worldwide.