The lecture A Green New Deal . . . Me / We by Enric Ruiz Geli is part of the preparation for the global online competition "Design for Biocities." This is the 9th edition of the Advanced Architecture Contest, this time focused on rethinking our human habitats following the rules of natural systems, promoting the transition from Cities to Biocities.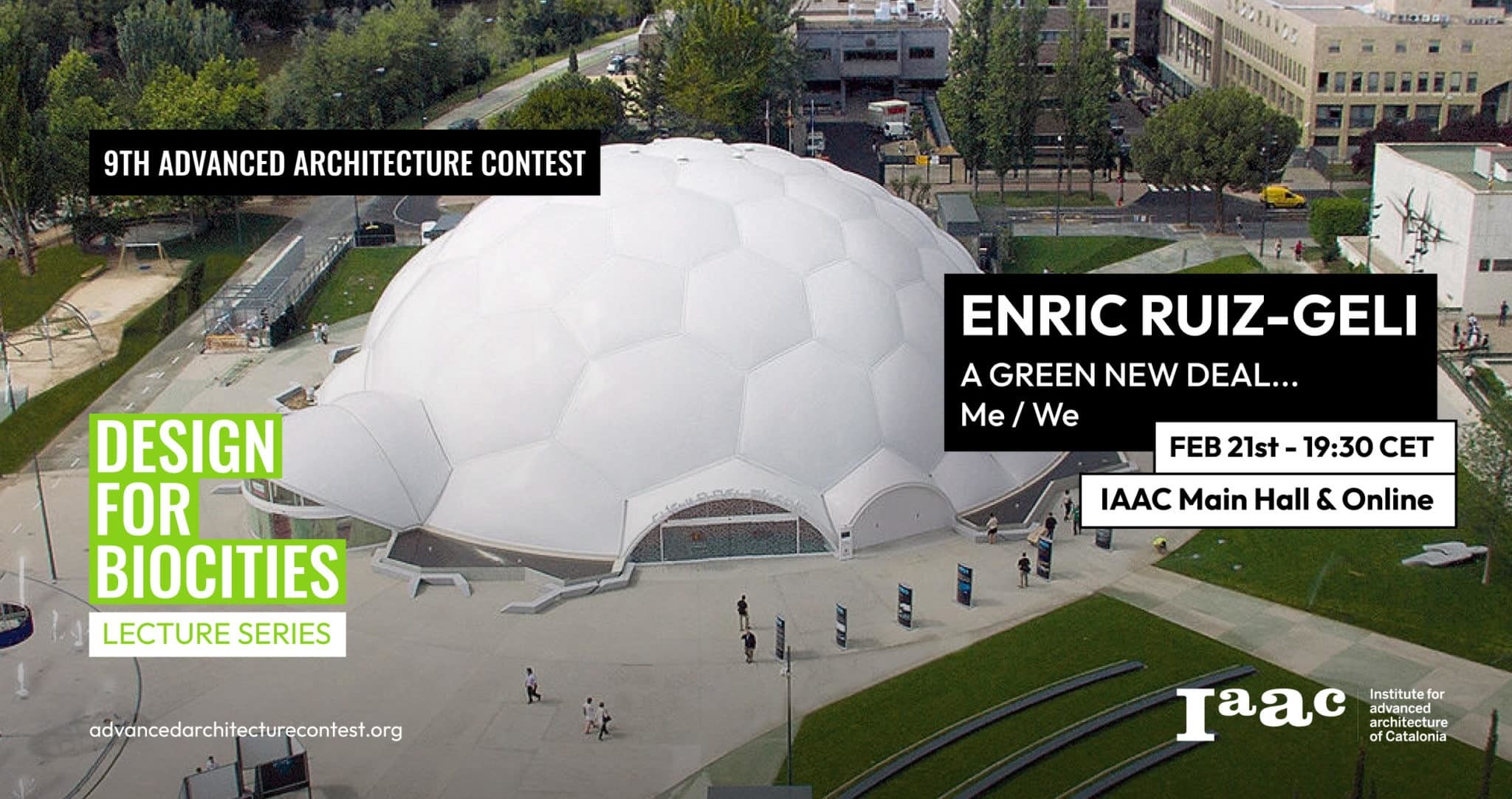 About Enric Ruiz Geli
Enric Ruiz Geli is Professor of Practice at VT, IAAC Senior Faculty and Adjunct faculty of RMIT. Enric and his interdisciplinary architectural team Cloud 9 in Barcelona work at the interface between architecture and art, digital processes and technological material development.
Cloud 9 multifaceted projects include stage designs and buildings, installations and patents, and are realized together with collaborative partners. Committed to the use of new technological developments for digital fabrication and the performative character of architecture, which creates intelligent structures in emulation of nature, its green agenda is to look at Pilot Projects in Global Warming Scenarios.
Enric Ruiz Geli / Cloud 9 been awarded nationally and internationally for the Research and Innovation applied to the design at, above other multiple times, the Research and Development Award of the Southern California Institute of Architecture and the Catalonian Award of Environment for the Sustainable Architecture. The most important projects include the CaixaForum Valencia, currently under development, the Villa Nurbs in Empuriabrava, an organically formed, ecological and futuristic house; the Millennium Project in Valladolid, with an urban retrofitting and using for the first time 10 urban wind turbines; elBulli Foundation for the chef Ferran Adrià as a living laboratory in Cap de Creus; and the Media-ICT building in Barcelona that has been awarded as Best Building of the World by WAF 2011; a Net Zero Building with a very competitive cost of construction.
Lecture Abstract
Enric Ruiz Geli will talk about 8 projects of Cloud 9, spanning more than 10 years of practice and taking various scales:
From Villa Bio to Media-ICT.
From Expo Zaragoza to the Wave in San Sebastian.
From Farglory in Taipei to the Millennium Dome in Valladolid.
From the Agora to CaixaForum in Valencia.
Monday, February 21st at 19:30 CET
Location: IAAC Auditorium & Online Zoom