IAAC Lecture Series – Alicia Nahmad, "Democratising Offsite, Digitising Onsite Construction"
Alicia Nahmad is an architect with a passion for robotics and digital fabrication, a strong believer that robotics can augment rather than replace human craft and that human-robot collaboration is the future of the construction industry. As a research-based practising architect, for the last 12 years, she has been engaged with the digitization of building trades and adapting advanced digital design and robotic fabrication methods to incorporate the wisdom and craft of traditional building cultures. Her projects include the construction of award-winning 'Knit-Candela' and diverse collaborations with practice and academic institutions. She holds a PhD from Cardiff University and a MArch from the AADRL.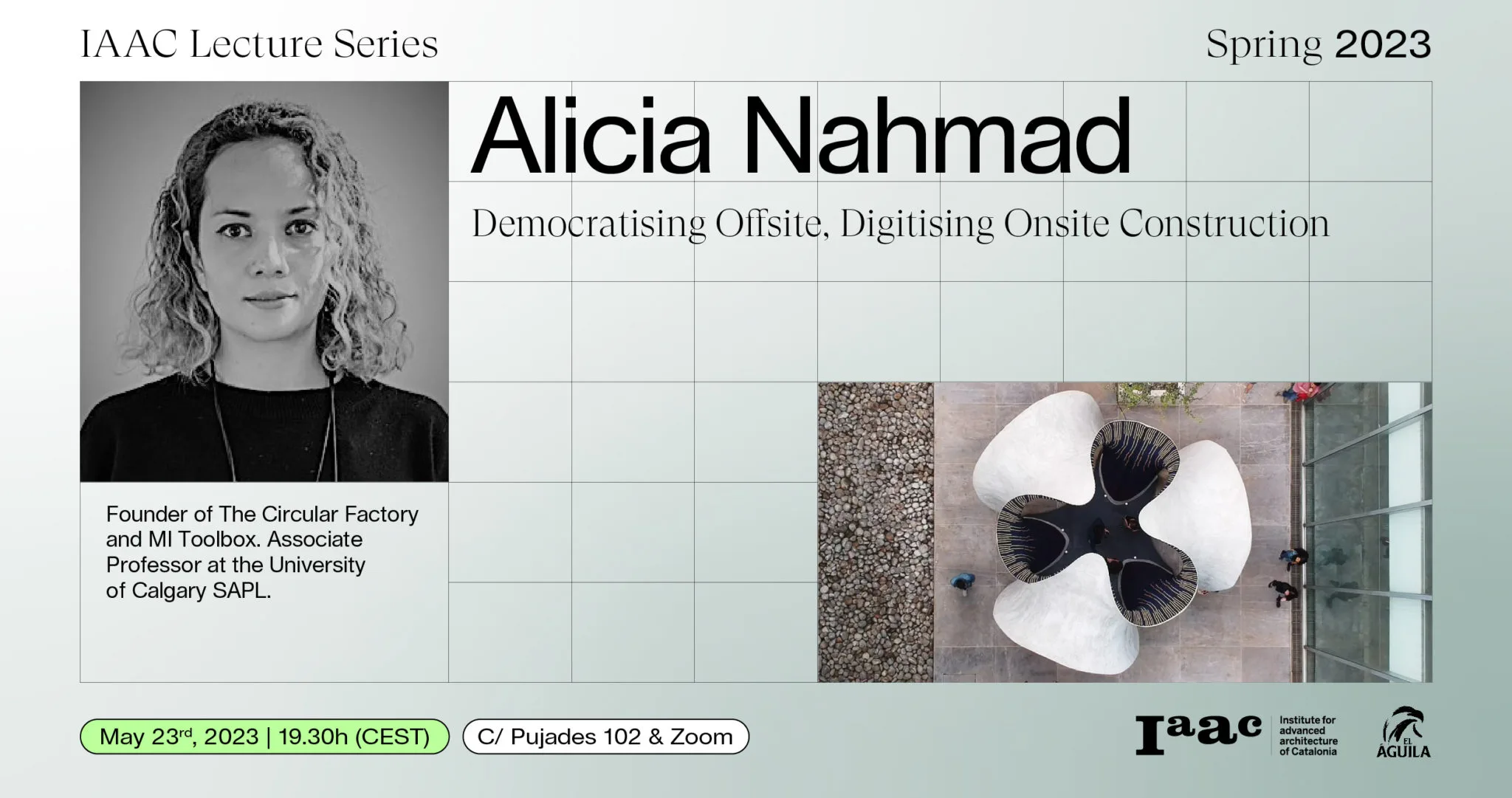 Her work focuses on exploring design through integrating materials, local skills and cutting edge design and digital fabrication technologies – such as machine learning and robotics – in relation to context-specific environments. She has developed workflows for human-robot collaboration in the design and construction process that engage with local communities. Nahmad's work expands across a number of scales, from architectural pavilions and robotic installations to developing customized PPE masks for frontline personnel.
As an academic and an entrepreneur, Alicia Nahmad is the founder of The Circular Factory (CF), and MI Toolbox. Nahmad works as an Associate Professor at the University of Calgary SAPL. She also co-directs the Laboratory for Integrative Design. Before joining SAPL, she worked as studio master at the AADRL for 5 years. Previously, she worked developing digital tools for practices like Populous and Zaha Hadid Architects. Her work has been published in numerous conferences and journals an she has lectured internationally on related topics.
Democratising Offsite, Digitising Onsite Construction
Advances in digital fabrication and computation enable us to address the increasingly urgent requirement of decreasing embodied energy and waste in construction. However, access to digital fabrication processes is not equally distributed. Through case studies, Alicia Nahmad reflects on how human-compatible novel digital design and construction methods can augment onsite construction techniques by reducing material waste whilst building beautiful and efficient structures.
IAAC Lecture Series – Alicia Nahmad / Date: Tuesday, 23rd of May, 2023 Time: 19.30h (CEST) 
Title: "Democratising Offsite, Digitising Onsite Construction"
Location: In-house at IAAC Main hall, C/ Pujades 102 & Zoom