Now that the holidays are over we are excited to start the 2023/2024 season. The beginning  of a new season is a great time to start new projects! Everyone gets back to work with more energy and enthusiasm.
These months has been fantastic for Barcelona Architecture Walks, lot of people has been walking with us during the summer time and this September Barcelona Architecture Walks has all our leading architects and our tours ready to help you discover our city from a new perspective.
Let's to know something more about our regular leading architecture team!

Carmen Popescu, Bucharest. Architecture Studies between Bucharest and Barcelona (1992-2003) Specialized in Heritege Preservation and PhD in Barcelona, ETSAB-UPC, thesis in Urban Heritage Management and Protection. Baw walker ( 2017-today)
Jelena Prokopljevic, Belgrade. Architect degree from the Belgrade University (1998) and PhD from the Polytechnic university of Barcelona (2006) Practicing architect, researcher, writer and professor and is currently a member of the board of directors at Arquin-FAD.
Rafael Gomez-Moriana, Montreal, Canada Studied architecture at the University of Waterloo (1989) and the Berlage Institute Amsterdam (1995). Associate Adjunct Professor University of Calgary. Has taught at several universities, contributor to architecture magazine and member of the jury of the FAD prize for thought and criticism 2023.
Pia Wortham, Mexico City, Mexico. Tufts University Civil Engineering and Fine arts Museum School of Boston Massachusetts, Masters of Architecture Columbia University, Winner of the Matthew Del Gaudio Award for Design Excellence Columbia University 1989, has work at Enric Miralles Architect 1990-1993, 1994-1997, and has taught at several american Universities.
Ricard Pons i Mascases, Barcelona. Studies in Barcelona and Brussels. Architect by ETSAB-UPC (2004), two postgraduate courses on town planning and energy saving (2011-2012) Currently working for the Catalan Government and has worked for the COAC (Architect's Association of Catalonia) International Department.

And about our walking tours for this 2023/2024 season…
We have our usual five regular weekly tours where you get to meet fellow walkers from all over the globe. You can also reserve private tours of these same routes to better fit your schedule with one of our guides dedicated exclusively to your group or family. On top of our regular tours we also offer five special tours with routes designed for those who want to explore more specific topics like Barcelona and landscape or Barcelona and RCR, the Spanish Pritzker Prize winners from 2017, or even a more in depth look at one of our regular tours, Modernismo XL, for example.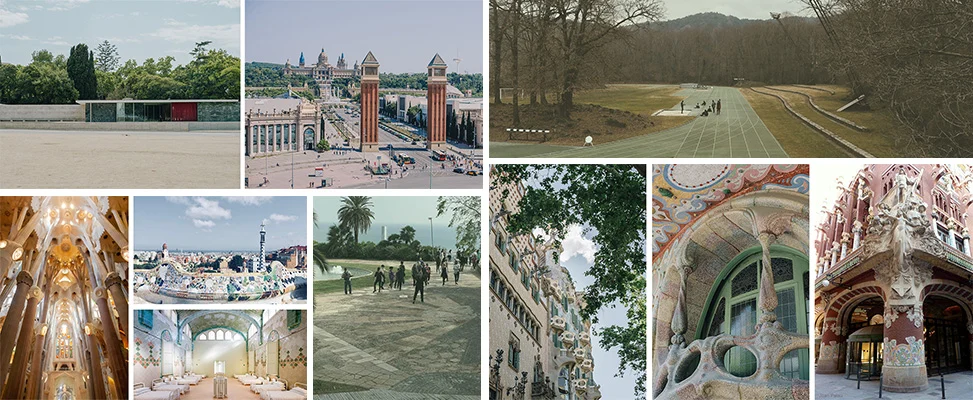 As always this season 2023/2024 each route is driven by a set of themes and concepts that decode the city whilst stimulating new ways of thinking about and seeing Barcelona.
Come and walk with us and live a fantastic experience!!!