Pantalla Pavelló 2023 Film Series: on 7th August 2023 Drift by Helena Wittman
'Pantalla Pavelló' is the film series directly projected on the travertine of the Mies van der Rohe Pavilion that delves into the relationship between the built environment, its limits and its borders, the people who inhabit it, and how this relationship is accentuated and revealed in its maximum expression. Architecture, and our cities along with it, determines and influences how we live in the same way as our rules of coexistence and the laws that govern our societies. A reflection on the built environment around us, the cities we want and therefore the society we desire.
2023 Blue Diversity
On the occasion of the appointment of the city of Copenhagen as World Architecture Capital 2023, the director of the Copenhagen Architecture Festival, Josephine Michau, presents the Blue Diversity film series, which will include films set in seas and oceans in order to talk about their biodiversity, and our current relationship, conception and management of water as a vital resource.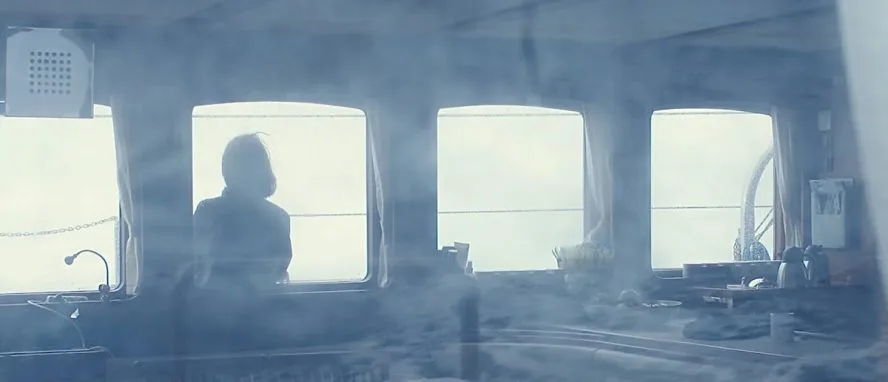 The second film of the Pantalla Pavelló 2023 series is Drift by Helena Wittmann.
Drift is a mysterious and immersive exploration of the oceanic realm, as depicted through the lens of two nameless protagonists sharing their thoughts and stories about ancient myths and legends of the sea. Through dreamlike sequences and hauntingly beautiful imagery, the film invites us to surrender ourselves to the ebb and flow of the sea and to find new modes of being in its timeless rhythms. Drift is a poetic and sensorial masterpiece, a celebration of the beauty and strangeness of the natural world, and a reminder of our place within it.
In this case, the topics of discussion will revolve around the sea subverting our solid, stable spatial and temporal orientation, its teachings about our terrestrial biases and how can architecture adopt spatio-temporal schemes from the oceanic realm.
On 7th August 2023 Drift by Helena Wittman
Film file
Title: Drift
Director: Helena Wittmann
Year: 2017
Timing: 96′
Place: Germany