IAAC Lecture Series – José Toral
José Toral is a partner, along with Marta Peris, at the architecture firm PERIS+TORAL ARQUITECTES, based in Barcelona. The firm focuses on researching new ways of living and building to address the challenges posed by the climate and housing emergency. Since 2016, José Toral has been an associate professor at the Department of Architectural Projects at ETSAB UPC, specializing in the study of public space and urban projects.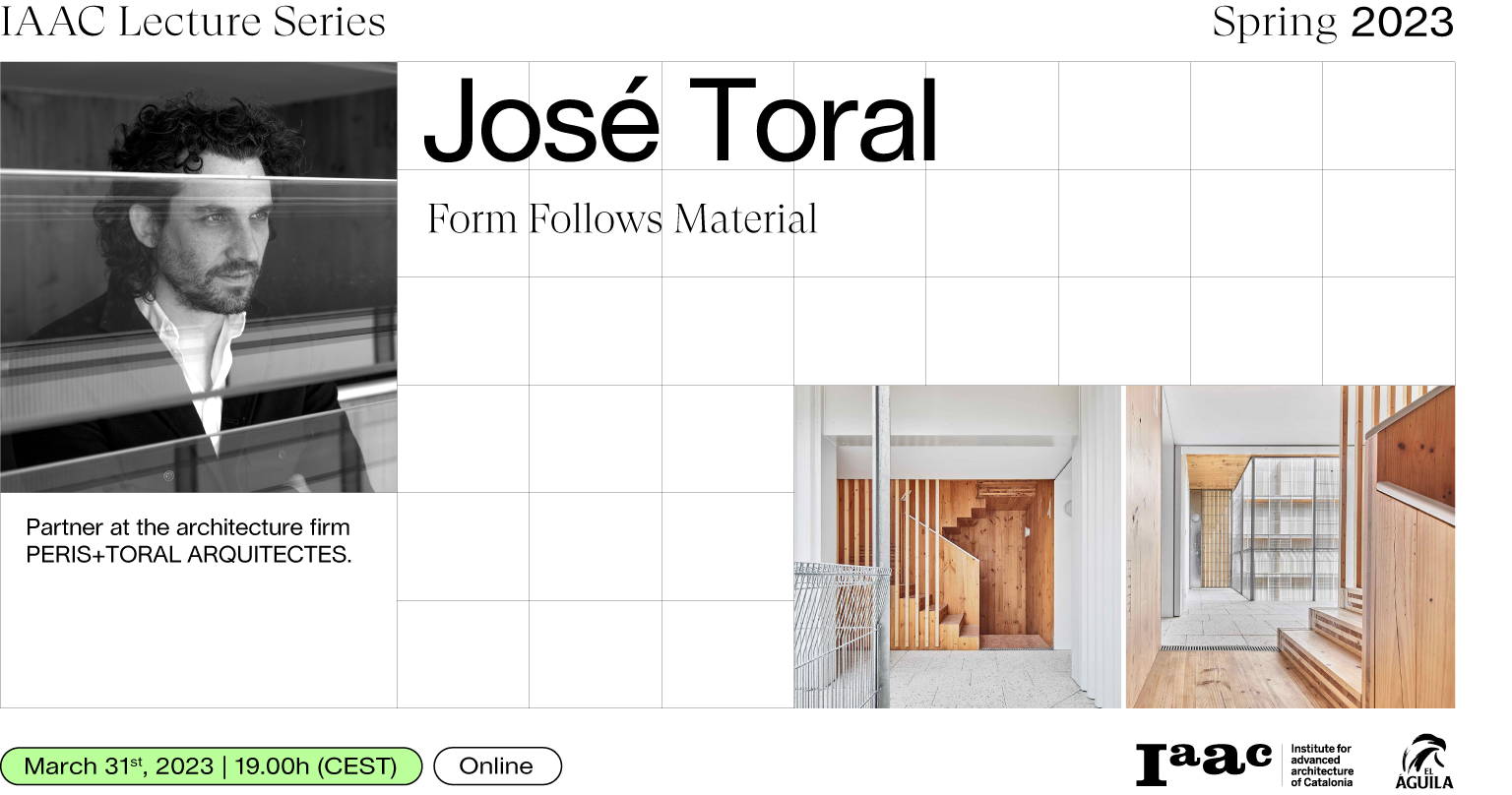 The creative work of PERIS+TORAL ARQUITECTES has been consolidated by winning numerous national public competitions, and the quality and rigor of their built works have been recognized by various international awards, such as the Matilde Baffa Ugo Rivolta European Architecture Award 2021, the Gold Label Best Architects 22 Award in the multifamily housing category, the Architecture MasterPrize 2021 in the multi-unit residential architecture category, The Plan Award 2021 in the social housing category, the BLT Built Design Awards in the social housing category, the Live Challenge Award by Baumit, and as a finalist in the Eu Mies Award 22 with the 85 social housing units in Cornellà, in 2022.
Form Follows Material
The lecture aims to explain how the PERIS+TORAL ARQUITECTES studio approaches architectural creation through its projects, considering the current challenges of the climate and housing emergency. In this sense, architecture is approached from an integral sustainability perspective, where environmental, economic, and social aspects are interrelated in order to offer efficient and sustainable architectural solutions for current and future needs.
The objective is not to focus on each of these aspects individually, but to find the overlapping areas between them to discover strategies that can solve social, environmental, and economic problems. When we combine social and environmental sustainability, the strategy of creating intermediate spaces that reduce demand and promote social relationships emerges. When we combine environmental and economic sustainability, the strategy of reducing material use to minimize CO2 emissions and costs appears. Finally, when we combine economic and social sustainability, the strategy of sharing resources to reduce costs and obtain social benefits emerges.
IAAC Lecture Series – José Toral
Date: Friday, 31st of March, 2023
Time: 19.00h (CEST)
Title: Form Follows Material
Location: Online