"From Architectural Urbanism to Integrative Architecture" by Nasrin Seraji at IAAC Lecture Series 2019
After studying at the Architectural Association and practising in London, Nasrin Seraji moved to Paris in 1989 to establish her studio where architecture is treated as both a cultural debate and a practice. Since then, she has pursued a path constantly enriched by her simultaneous engagement in architectural practice, teaching, and research. She has lectured and exhibited her work widely in Europe and North America, as well as China and South East Asia.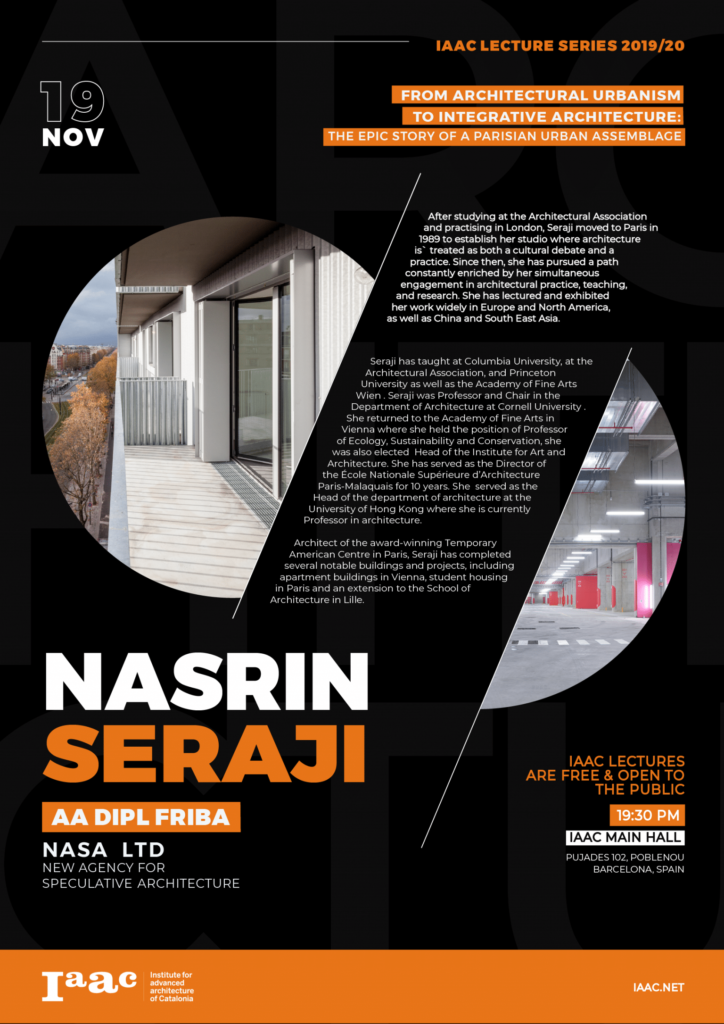 Seraji has taught at Columbia University, at the Architectural Association, and Princeton University as well as the Academy of Fine Arts Wien. She has served as the Director of the École Nationale Supérieure d'Architecture Paris-Malaquais for 10 years. She served as the Head of the department of architecture at the University of Hong Kong where she is currently Professor in architecture.
Architect of the award-winning Temporary American Centre in Paris, Seraji has completed several notable buildings and projects, including apartment buildings in Vienna, student housing in Paris and an extension to the School of Architecture in Lille.
IAAC Lecture Series 2019/20
19th of November 2019
Nasrin Seraj
AA Dipl FRIBA / NASA LTD
From Architectural Urbanism to Integrative Architecture
@ 19.30, IAAC Auditorium