IAAC presents Mass is More at the Mies van der Rohe Pavilion
Mass is More is the installation designed by the Institute for Advanced Architecture of Catalonia and Bauhaus Earth that brings the innovation of mass timber construction to the Mies van der Rohe Pavilion in Barcelona. The project, open to visit from 1st to 9th of October 2022, establishes a dialogue between the industrial modernity of the 20th century and the new low-emission buildings of the 21st century.
The event serves as a stage for the launch of MASS MADERA, a national network of pioneers whose main mission is to facilitate and promote the construction of green buildings, and work towards the decarbonization of architecture. Through various interventions, the installation shows how the use of wood and other regenerative materials can help reduce the high CO2 emissions that are associated with the construction industry.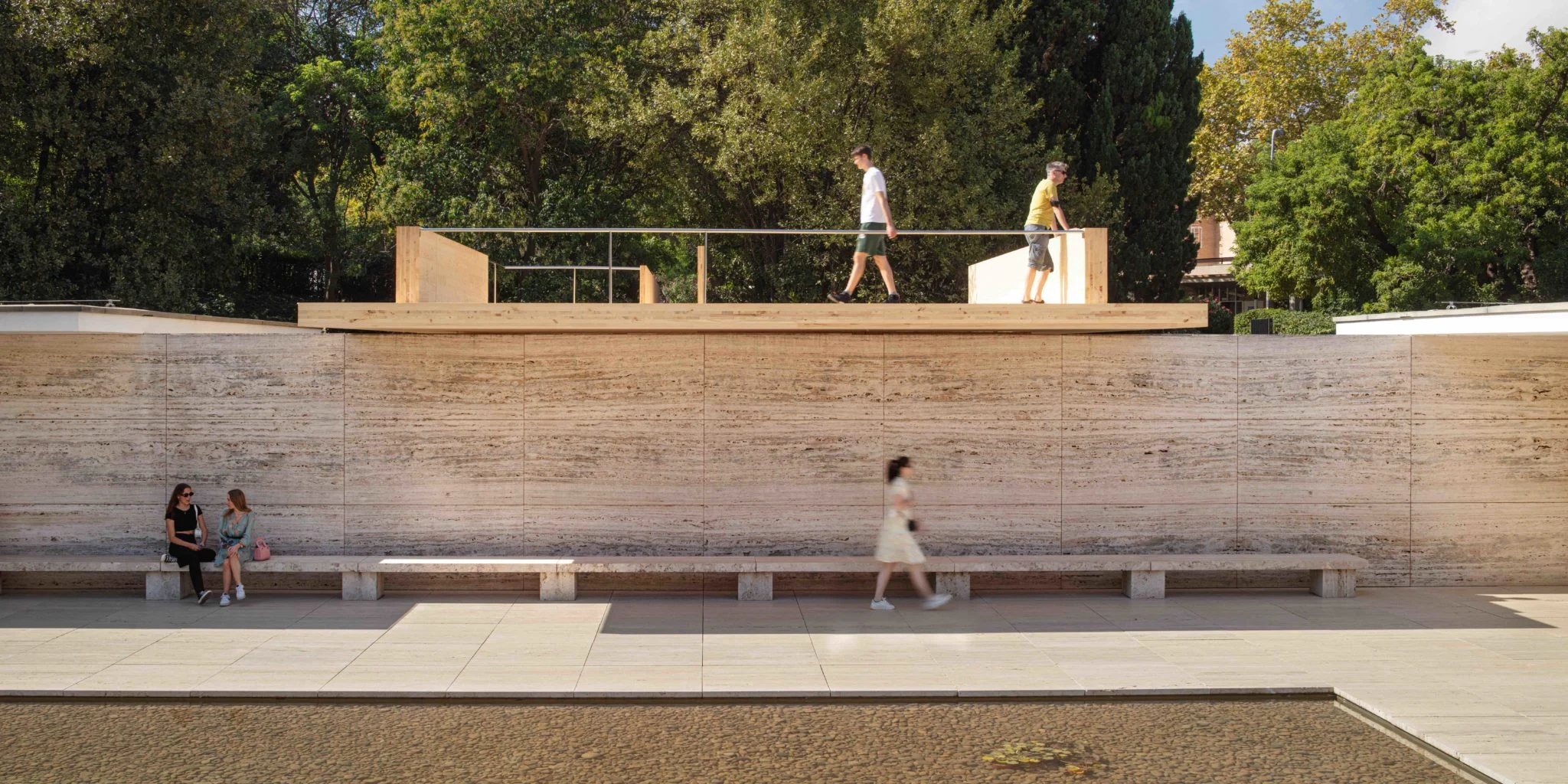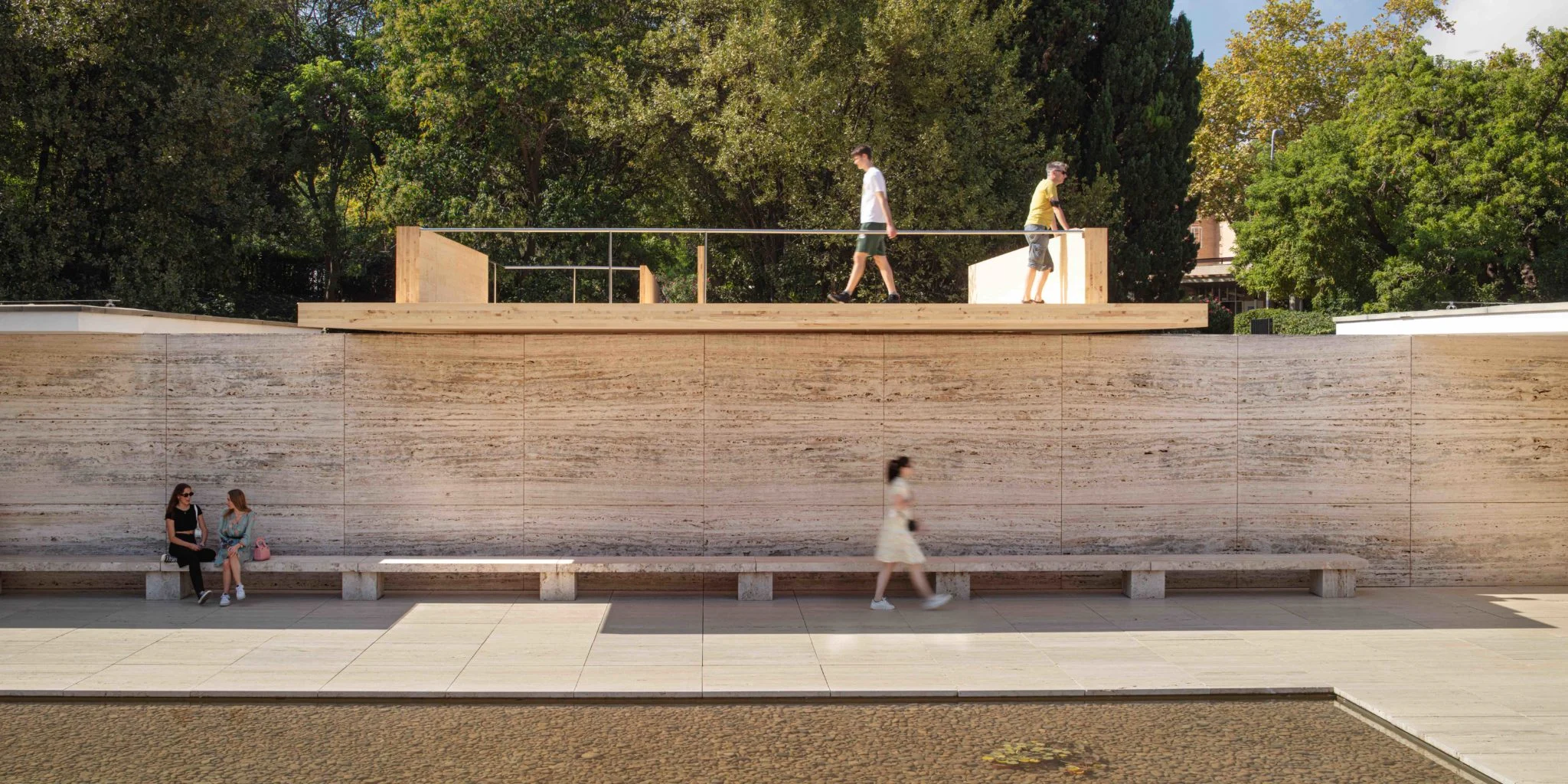 The project has been made possible through grant funding from Built by Nature (BbN), a philanthropic fund dedicated to accelerating the timber building transformation in Europe by radically reducing embodied carbon; safely storing carbon in our buildings for generations; and sequestering carbon by championing forest stewardship and regeneration. Laudes Foundation is the founding partner of Built by Nature.
"Mass is More" will also host the launch of MASS MADERA, a network of Spanish pioneers in industrialized solid wood construction, including cities, governments, companies, organizations and architects from around the country. This network is being coordinated by IAAC, whose main objective is to promote the development of mass timber construction, and the reduction of CO2 emissions associated with it.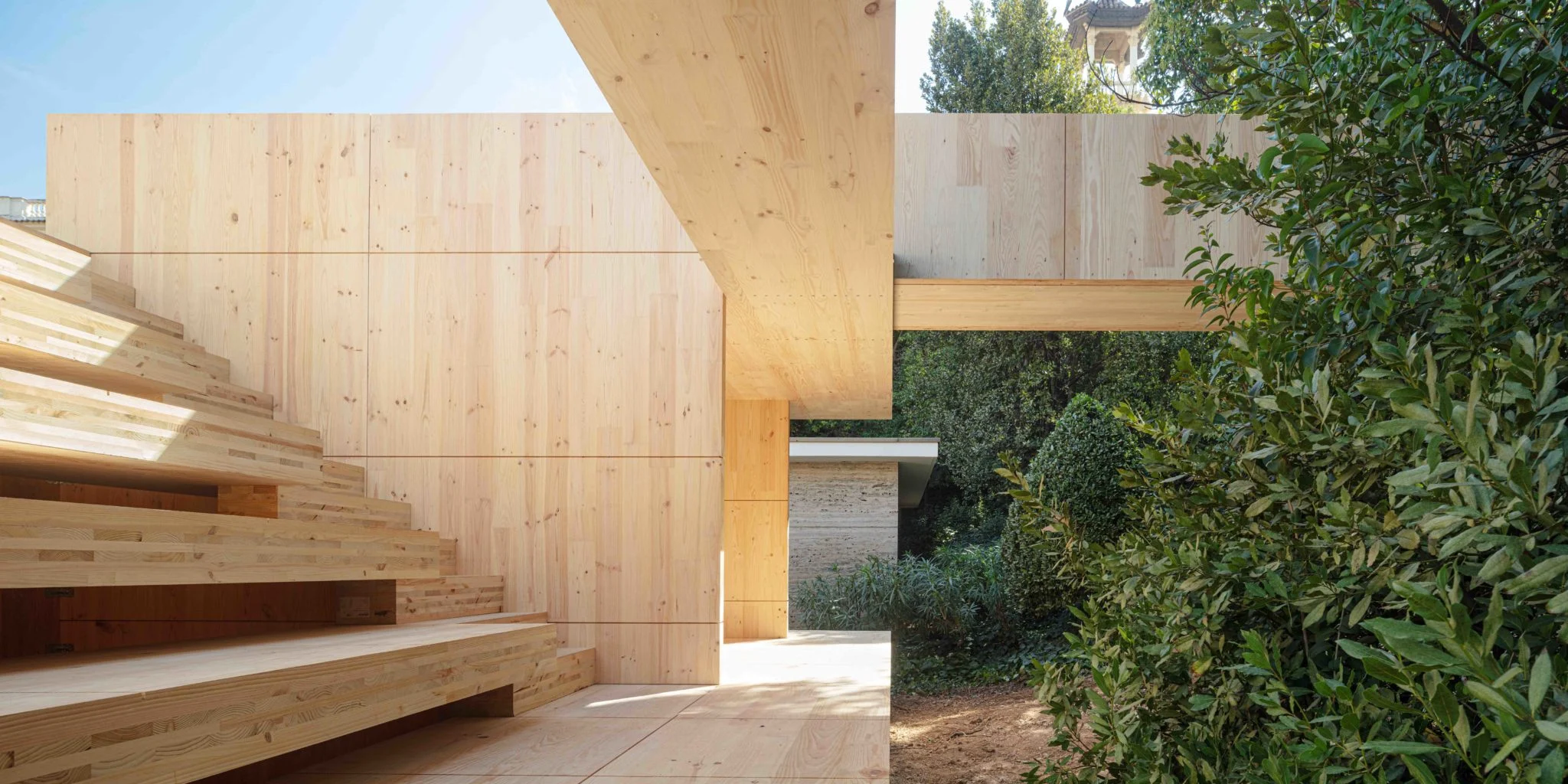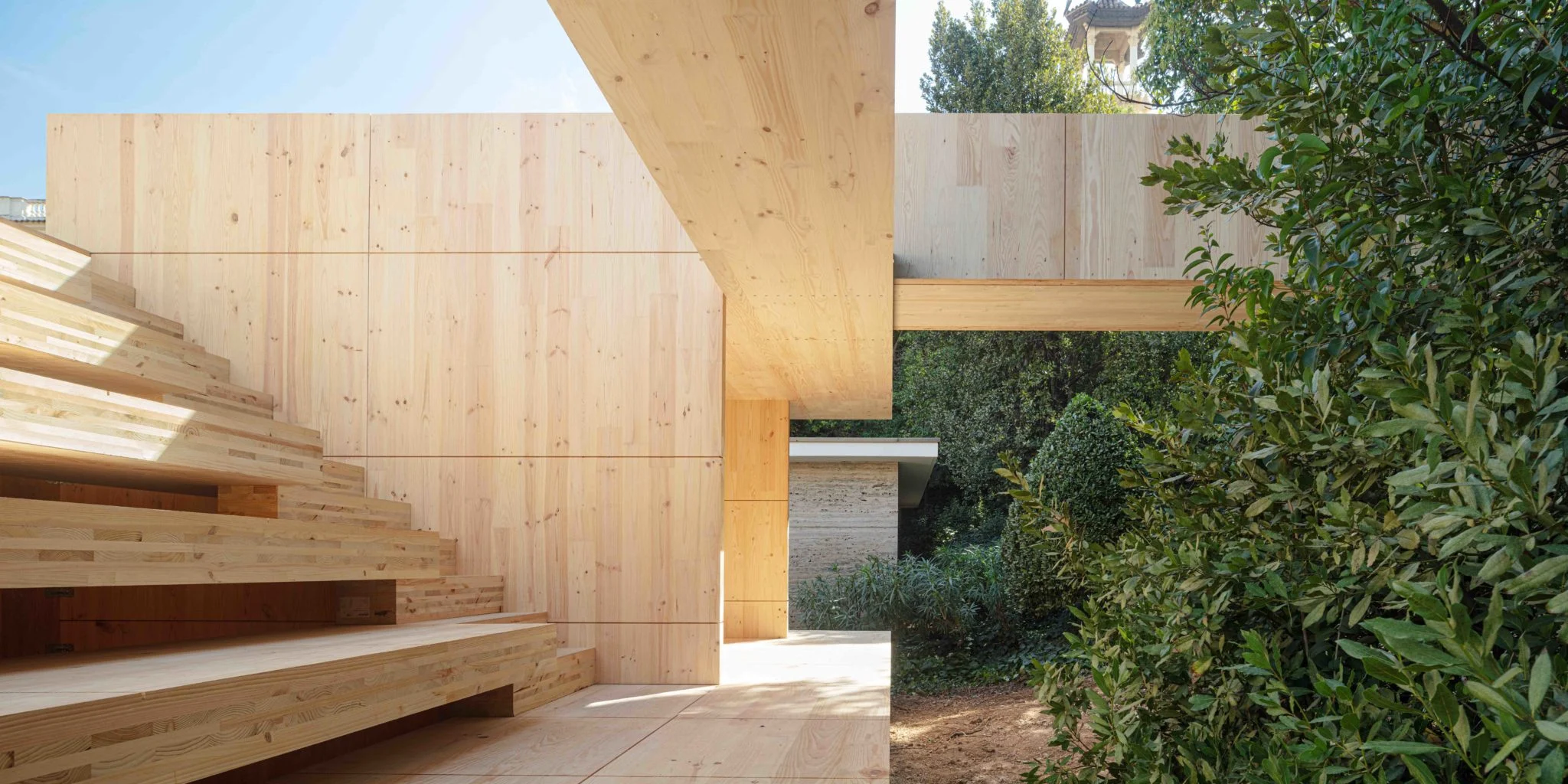 The "Mass is More" installation transforms the Mies van der Rohe Pavilion.
Almost a century after the construction of the German Pavilion designed by Ludwig Mies van der Rohe and Lilly Reich, IAAC and Bauhaus Earth propose to create a dialogue between the past and the future of wood and an exhibition that explores the use of biogenic materials for architecture. The pavilion is also the host of the biennial European Union Prize for Contemporary Architecture / Mies van der Rohe Awards, attesting to the role and influence of the Fundació Mies van der Rohe in the current architectural discourse.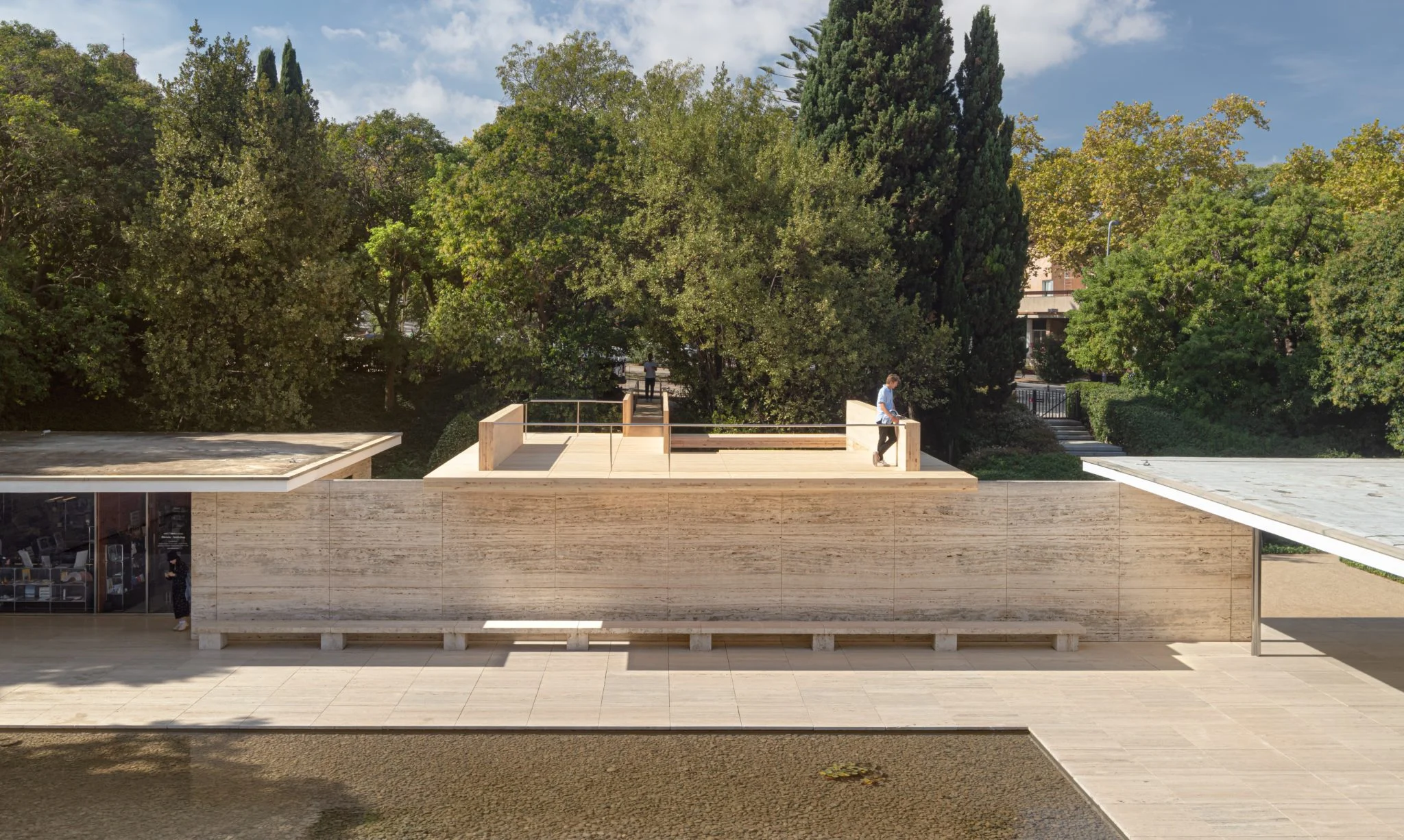 Adhering to the architectural language of the pavilion, this new installation creates a dialogue between the most advanced materials of the 20th century and the 21st century. Through a series of elements made of cross laminated timber (CLT) panels from local forests, this installation demonstrates the structural capabilities of this new materiality and its suitability for constructing more sustainable buildings with a much lower environmental impact. All the pieces that make up this installation have been produced by Xilonor, the most advanced Galician CLT company in Spain, part of the FINSA group.