Carlo Ratti Lecture "The Eyes of the City" at IAAC Lecture Series 2019
An architect and engineer by training, Carlo Ratti practices in Italy and teaches at the Massachusetts Institute of Technology, where he directs the Senseable City Lab. He graduated from the Politecnico di Torino and the École Nationale des Ponts et Chaussées in Paris, and later earned his MPhil and PhD at the University of Cambridge, UK.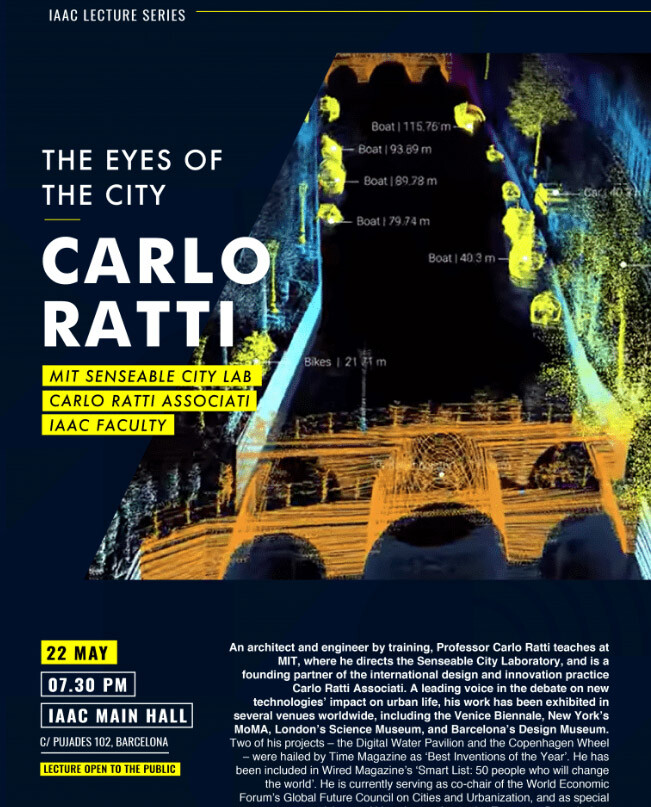 Carlo holds several patents and has co-authored over 250 publications. As well as being a regular contributor to the architecture magazine Domus and the Italian newspaper Il Sole 24 Ore, he has written for the BBC, La Stampa, Scientific American and The New York Times. His work has been exhibited worldwide at venues such as the Venice Biennale, the Design Museum Barcelona, the Science Museum in London, GAFTA in San Francisco, MoMA in New York and MAXXI in Rome.
Carlo has been featured in Esquire Magazine's '2008 Best & Brightest' list and in Thames & Hudson's selection of '60 innovators' shaping our creative future. In 2010 Blueprint Magazine included him as one of the '25 People Who Will Change the World of Design', Forbes listed him as one of the 'Names You Need To Know' in 2011 and Fast Company named him as one of the '50 Most Influential Designers in America'.
IAAC Lecture Series 2018/19
22nd of May 2019
Carlo Ratti
MIT Senseable City Lab / Carlo Ratti Associati / IAAC
The Eyes of the City
@ 19.30, IAAC Auditorium
Free and Open to the Public